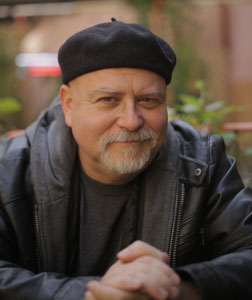 New York corporate photographer Arnold Adler has been capturing images with a sense of honesty and creativity for more than thirty years. He has a successful photography business with a rich variety of corporate, non-profit, editorial and private clients.
That success is built on a dynamic, natural and spontaneous approach to photography. Arnie's approach reflects his belief that the most captivating images in life are captured only when a subject is free, relaxed, and living in the moment…whether that moment is posed or spontaneous.
In 1984, Arnie Adler was named the first staff photographer for the New York office of Crain Communications. He was part of the team that took Advertising Age from its identity as a staid media publication into a vibrant business magazine. His coverage of meetings, events, locations and industry parties, along with striking images of corporate movers and shakers are still seen in Craig's New York Business regularly, as well as in other local and national media.
Arnie Adler left Crain's in 1988, eager to shoot for a more diverse roster of clients. Today, his subjects include jittery wedding couples (Click here to see his wedding portfolio) assured Fortune 500 executives, and famous/infamous faces, such as Hillary Clinton, Bernie Madoff, Bette Midler, Donald Trump, and Jerry Garcia.
Arnie Adler's passion for photography began when he was a teenager. While still in middle school he won first place in the Queens Borough Public Library photo contest. He has rarely been seen without a camera since.
"I photograph each project with the enthusiasm of it being my first. As a result, I have had thousands of satisfying assignments and satisfied clients for more than three decades." – Arnold Adler
Arnold Adler Photography is based in Riverdale, NY, serving the tri-state area and the national media marketplace. For information on his photographic services or to purchase his images from his personal collection, please go to the contact page.
EDITORIAL
ABA Law Journal
ABA Banking Journal
American Banker
American Lawyer
Barron's
BNP Media
Black Enterprise
Bond Buyer
Broadcasting Magazine
Cablevision
CFO
Chronicle of Philanthropy
Corporate Finance
Crain's NY Business
Entrepreneur
Euromoney
Financial Advisor
Folio
Forbes
Futures Magazine
Global Finance
Human Resource Executive
InfoWorld
Institutional Investor
Investment News
Multchannel News
National Journal
Nation's Business
On Wall Street
Pageant Media
Plan Sponsor
Plastic Surgery Practice
Risk & Insurance
Sales & Marketing Management
Smart Meetings Magazine
Source Media
Trader's Magazine
Training Magazine
Treasury Magazine
US Banker
Wall Street Journal
Woman's Day
CORPORATE
American Express
Art & Entertainment Channel
American Library Association
Association of Business Publications
Association of Cable Communicators
Bernhand Fudyma Design
BMW
Canon USA
Cable Advertising Bureau
CBS Broadcast Group
Chris Gorman Associates
Columbia University
Cooper Union University
Credit Agricole
CTAM
Edelman Public Relations
Enterprise Community
Ernst & Young
Fleishman Hillard Inc
Fordham University
Fresh Air Fund
Great Places to Work Insitute
Grey Advertising
J P Morgan /Chase
John Wiley & Sons
KPMG Peat Marwick
Lowes Corporation
Memorial Sloan Kettering
MSNBC
National Geographic
New York Times Co.
New York University
Pepsi-Cola Company
Pfizer
Planned Parenthood
Revlon
Rockefeller University
Time Warner
Towers Watson
UBS
Viacom
Wells Fargo